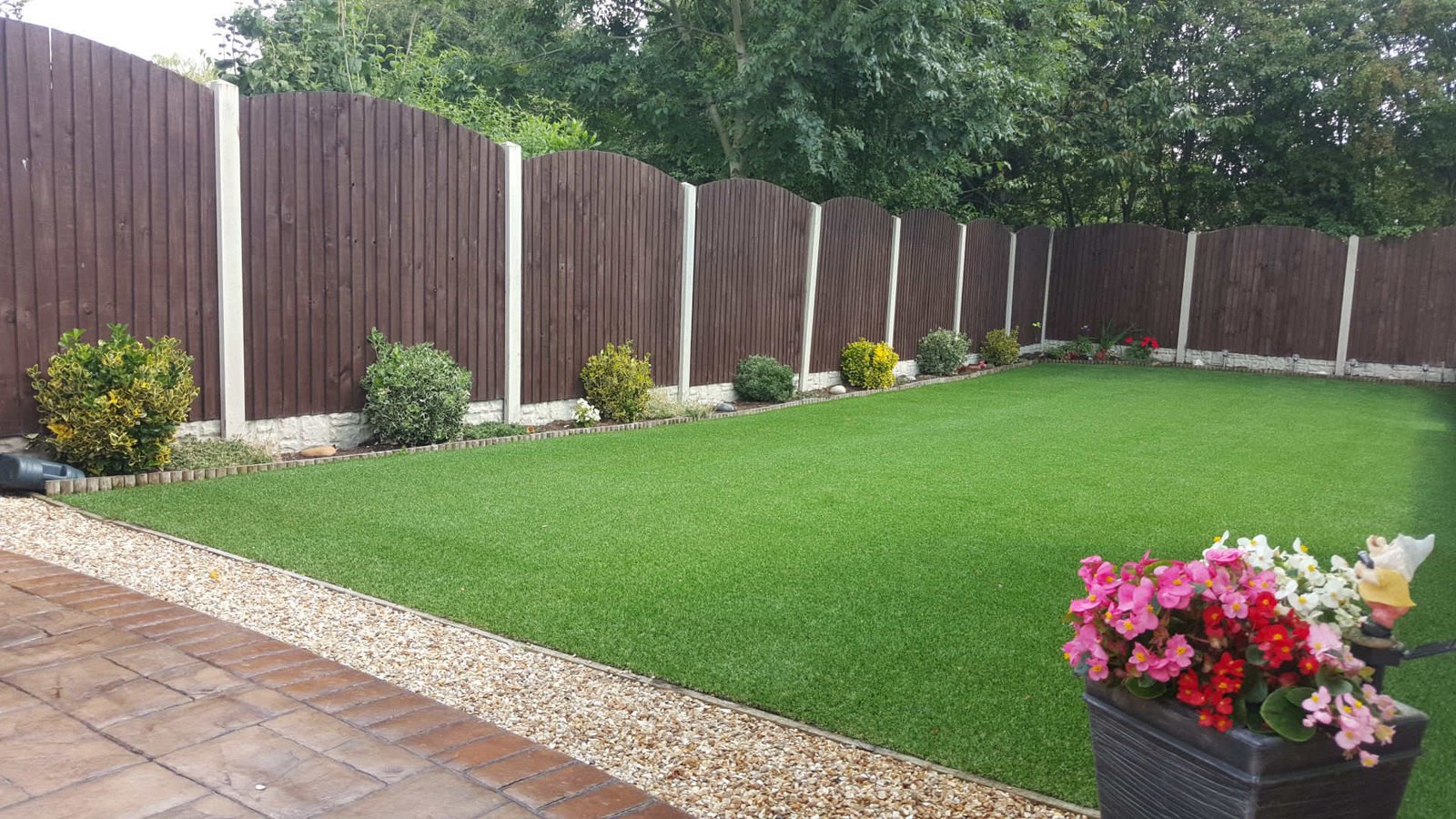 Artificial Grass FAQs
Frequently asked questions on artificial grass
Below is a selection of the questions we are asked most often, if you have any other questions feel free to get in touch with us.
Is Lux Lawns artificial grass safe for children?
Yes.
All our artificial lawn grasses are completely safe for children, they are super soft to the touch, non-slip and low friction which is why we install them in schools and nurseries as safety play surfaces. Loved by kids and parents alike our lawns give you all the fun of the outdoors with none of the grass stains or muddy mess.
Is Lux Lawns artificial turf safe for pets?
Yes.
Pets love our artificial grass. Dogs can run and roll-around without turning your garden into a mudbath! The grass won't be discoloured by urine and dog-mess can be easily lifted making it a practical alternative to natural grass. All our installs come complete with a sand infill that protects the pile from clawing pets.
Why does a Lux Lawn look so real?
Experience.
We have over 15 years experience of artificial grass fitting and our professional installation teams have completed thousands of garden lawn transformations. We only use the latest, high quality products which combine multi-tones and layers with the highest tufting density possible to give you the most realistic lawn grasses available.
How long does artificial grass last?
Approx 20 Years.
Our artificial grasses typically last up to 20 years dependant on usage and comes complete with a warranty for up to 10 years. All our products are fully UV stabilised.
Why choose Lux Lawns?
Reputation.
From quotation to completion and beyond we have an industry renowned reputation built on quality and service, read our reviews.
How long does an install take?
Approx 1 day.
Most installs take a day or less. Larger gardens and nursery safety surfaces may require more time.
Can Lux Lawns artificial grass be laid on any surface?
Almost.
Artificial grass can be laid on soil, concrete or tarmac to replace an existing lawn, brighten up a patio, revive bland decking or even transform roof terraces and pool sides. Any loose bark chippings, pebbles or existing turf will need to be removed before an aggregate base is installed.
Can it be laid on sloping ground?
Yes.
All but the steepest slopes pose few problems.
Will the artificial grass fade?
No.
All our products are UV stabilised and guaranteed not to fade in sunlight. Most products come with a 10 year UV warranty.
Does it drain like real grass?
Yes.
Our artificial grasses are fully porous just like natural grass.
Are artificial lawns environmentally friendly?
Yes.
Artificial lawns prevent the need for pesticides, herbicides and chemical fertilizers which are harmful to wildlife and can help lower your carbon footprint as you won't need petrol or electricity to power a lawn mower.
Does it feel like real grass?
Yes.
Our lawns look AND feel soft to the touch like real grass. Find out for yourself by requesting some FREE samples today!
Will weeds grow through the artificial lawn?
No.
Our special installation techniques using a geotextile weed suppressing membrane will prevent weeds penetrating your lawn. N.B. Weeds can land on the top of the lawn but these are easily removed or can be sprayed with weedkiller with no detriment to the lawn.
Why sand-infill?
Many Benefits.
The many benefits of sand-infilling are such that nearly all our artificial grass installations come complete with one. Importantly, the sheer weight of the sand stabilises the entire system allowing the grass to compliment the natural contours of your garden promoting a very natural appearance. Sand infilling also helps in the following areas: provides "foundations" at the base of the pile helping the grass to maintain it's structure, prevents damage from pets, removes static shock risk, reduces likelihood of theft, reduces fire risk.
What about maintenance?
Our artificial lawns require very little upkeep compared to their natural counterparts – part of the reason why they're so popular. No mowing, watering, weeding or feeding required. Just brush off any debris/leaves when necessary. To prevent weeds or moss forming on top of the surface, we advise you use a long lasting weed killer solution twice yearly.
Your Luxury Artificial Grass is hard wearing and requires very little maintenance compared to natural turf. However to keep it in good condition and get the most from your lawn we recommend following these few simple steps:
Regularly remove leaves and debris using a stiff brush, garden vac, leaf blower or a plastic rake to avoid a build-up of organic matter.
As seedlings/weeds can germinate on the top of the grass, an application of a weed killer at least twice a year is paramount. A long lasting weed-killer may take longer to see results but will create a lasting barrier compared to a fast-acting one. Just like real grass if it is walked or played on heavily the blades (pile) will flatten slightly, we recommended brushing the lawn occasionally to prevent compaction of the blades. They can be raised with a stiff brush, going against the direction of the pile (which is normally facing towards the house on rear lawns).
Note: Please ensure sources of heat are not introduced to the grass such as cigarettes, candles, BBQs, garden mirrors, bonfires or fireworks as this may melt the surface. It is important not to get any substances on the grass such as paint, chewing gum or adhesives. Do not place sharp objects, such as metal garden furniture, directly onto the lawn as this may cause damage.
Pet Owners: If the grass becomes soiled by dirt or dog mess, remove the bulk and then either hose down, spray with an artificial grass disinfectant and wipe away residue with kitchen towel or alternatively use warm soapy water and a stiff brush.
Rain water will help to wash away any smells but we recommend a light hosing regularly to help wash away urine. If you start to notice a strong smell of urine it may be a build up of uric acid and we recommended treating the lawn with a bactericidal urine neutraliser.